4Cs Legislative Agenda
2023 FULL TIME POSITIONS
Cap the community college non-managerial workforce at 50% contingent (SB 1105)

SUPPORT FOR DEVELOPMENTAL AND NON-TRADITIONAL STUDENTS
Affirm and expand the state's commitment to providing developmental education in PA12-40.
TUITION FREEZE
Oppose tuition for increases at the community colleges for the next biennium.
CSCU FUNDING
Advocate for significant increases to the state block grant with an eye to achieving the following:
Cover the shortfall
Expand PACT and restructure for more equitable effect (SB 8)
State funding to fully cover fringe costs
Fund stand-alone developmental education that is at risk of being eliminated entirely
Work toward getting at least 50% of the CC non-management workforce into full-time, permanent positions (currently, 74% of our workforce is contingent) (SB 1105)
Commitment to providing liberal arts college education as well as 'workforce development' at each location: Every CT resident has access to real college, regardless of income level and location
This would require an increase of about $330-350M- a doubling of the current block grant for the CSCU system. New sources of revenue are necessary.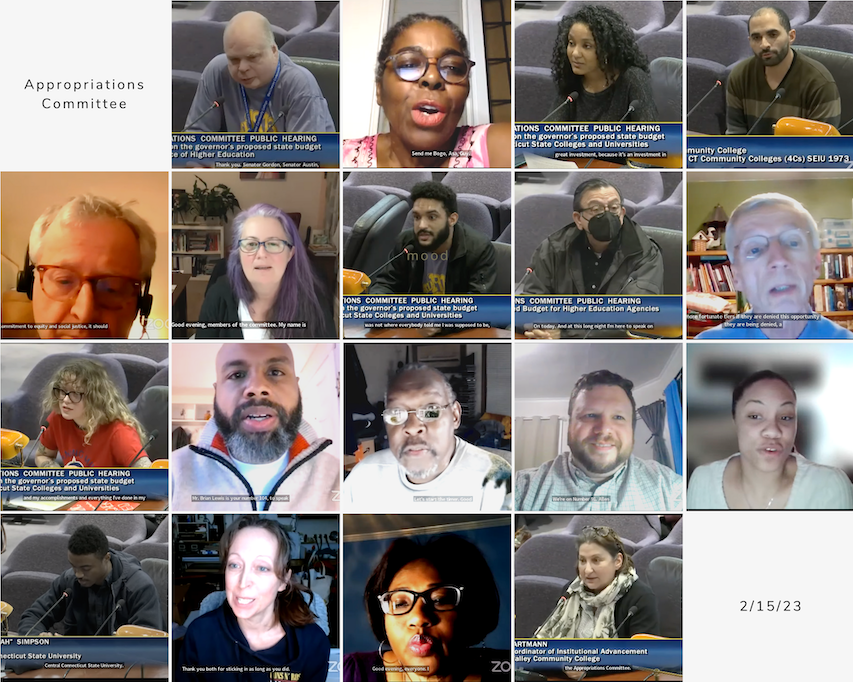 On February 15, a number of 4Cs members and students testified on the Governor's budget recommendations for Higher Ed! Listen to their testimony here.
Listen to Seth Freeman urging members to contact the Appropriations Committee to fully fund our system here
RAISING REVENUE FOR STATE SERVICES
Endorse the Recovery For All legislative agenda